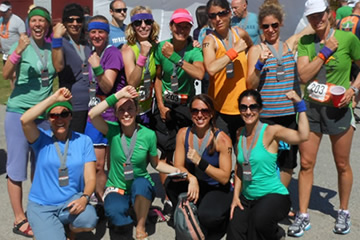 This past weekend, I joined 11 other women to participate in a Ragnar Relay — an overnight race featuring teams of 6-12 runners logging 200 miles combined. We divided into two vans of six, and we each took on three legs on this round-the-clock relay.
We stole cat naps during down time in the van, leapfrogged our runners to cheer them on, and threw modesty out the window (living in a van has its constraints). We accidentally went off course, ran down country roads in the middle of the night with only our headlamp to guide us, and listened to the same CD over and over (and over) again.
Plainly put, we had a blast.
I love going on new adventures because I love to push myself. I go into experiences like this fully expecting to be transformed…to learn something new about myself or simply spend more time in presence.
Ragnar didn't disappoint. In the 28.5 hours it took our team to complete the course, more than a few things struck me:
There is something incredible about the power of women working together. I know this is no newsflash, but it was so delicious to share this experience with a diverse group of beautiful women and bask in the supportive embrace we created together. In our group of mostly 40-somethings, there was no pettiness, no competition, no judging. It was each of us showing up as we are, and that was just perfect.
It's all about getting comfortable being uncomfortable. While I absolutely love running, there's no denying that when you're really pushing yourself and taking your body to the edge, it's hard. And it doesn't feel great. At a certain point, it comes down to battling that voice in your head that says "this is too hard…give up…stop and walk…" and pushing through. And it's that very pushing through that makes it so satisfying. Same goes for life in general…
Holding back takes you out of the moment. I had three legs to run during this race — 5.8 miles, 5 miles, and 4.5 miles — with about eight hours of "rest" in between each one. Knowing what was coming, I was tempted to hold back, to reserve energy during those first two legs, to make sure I had enough stamina to get through my last leg when I knew I'd be dragging from sleep deprivation and fatigue. But that choice would be one of fear — fear of not being fast enough, strong enough, conditioned enough to make it through. And that thinking has nothing to do what was actually happening in each moment, with each step. It's not about holding back…it's about taking it one leg at a time.
I am beyond grateful. Grateful I was able to run this race. Grateful I have such incredible friends. Grateful I'm healthy enough to tackle this physical challenge. Grateful I have a supportive hub who watched my son so I could do my thing. Grateful that I live in such a beautiful part of the country. Grateful that this is my life. I feel these things often, but something about this experience really brought that gratefulness to life.
There is something to be said for new adventures.